Main content starts here, tab to start navigating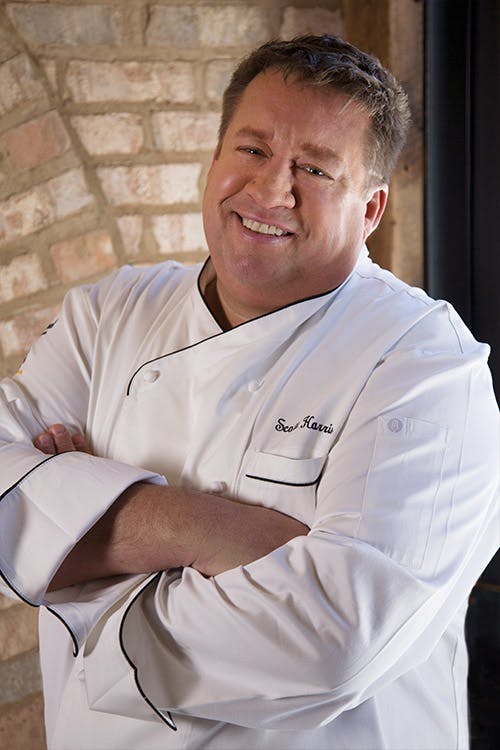 Chef Scott Harris
Owner / Ceo
When Chef Scott Harris opened the doors to Mia Francesca on North Clark Street in 1992, he created a trend in the Chicago restaurant scene that has become a benchmark for urban dining. Mia Francesca, touted an immediate success by the press and patrons alike, was one of the first restaurants to encourage the lively art of dining with a contemporary, casually sophisticated trattoria ambiance. Featuring simple, rustic cooking, friendly service and fair prices, Mia Francesca won accolades from Chicago Magazine as "Critics' Choice – Rookie of the Year.
For Harris, Mia Francesca represented both a start and a finish. A veteran of many well-known Chicago restaurant kitchens including; The 95th, Ambria, Cucina Cucina, Harry's Café, Sole Mio, and Petthany's in St. Croix, Mia Francesca was the culmination of his years of experience and the desire to provide Chicagoans with a new style of dining. To open Mia Francesca, Harris partnered with Michael Noone and Terry Alexander, restaurant entrepreneurs in their own right, whose subsequent successes include Streetside, Mod, and Sonotheque.
Harris has expanded his vision to form Scott Harris Hospitality which operates restaurants throughout the Chicagoland area and in San Diego, CA. His restaurant concepts include Francesca's Restaurants, Davanti Enoteca, Fat Rosie's Taco and Tequila Bar, Disotto, Vasili's, Fiore Pizzeria & Bakery, Zade's Lounge and Joe's Imports, acquiring the namesake of Joe Fiely, one of his original partners of Mia Francesca. " It brings me great pleasure to partner with him on his vision for Joe's Imports. I look forward to guests experiencing Joe's vast wine knowledge which is only surpassed by his warm and genuine hospitality. When you meet Joe you'll quickly figure out why he's fondly known as "Smiley Joe Fiely"—Harris says.
His managerial philosophy of building working partnerships with Chefs and other restaurant professionals, not just obtaining financial backers, has had a direct influence on the success of his restaurants. "We have really created a Family of Restaurants. Everyone has a vested interest in the restaurant's success," Harris notes.